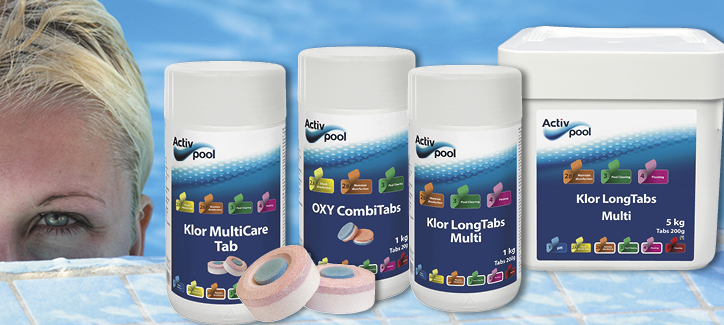 Multi-products
Several levels at once: simple, effective and practical.
Active Pool effective multi-tablets make swimming pool maintenance simple and practical. Active Pool Chlorine LongTabs Multi include pH stabiliser, slow-acting chlorine, deposit removal agent and flocculant – all in one tablet. The tablets also have a high chlorine content, at 82%, to ensure clean and hygienic pool water.
If you are away or on holiday, the multi-tablets are a very good solution if a less experienced person is to take of the pool.
Read more about the tablets' content and functions below.

Multi-tablet with four-in-one function: PH stabilizer, Chlorine LongTabs, Pool Protector and Flockin..

Tablet for chlorine-free pool water, which disinfects and provides clean and clear pool water. The w..
Websitet anvender cookies til at huske dine indstillinger, statistik og at målrette annoncer. Når du besøger vores hjemmeside, accepterer du automatisk vores brug af Cookies.