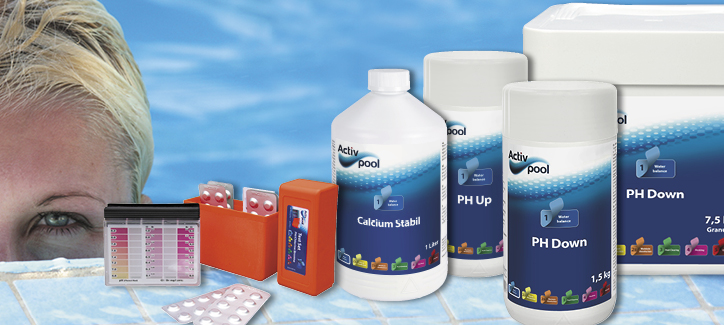 Level 1: Water balance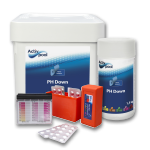 Every day, pool water is affected by both organic and inorganic matter that will soon make the water unclear and unhygienic, unless care products are added to the water. By using an effective filter system, as well as Active Pool water care products, you can keep your pool water clear and clean at all times.
Clean and clear water is ensured at level 1.
Level 1 includes adjustment to the correct initial water balance. To ensure that all subsequent water care has the optimum effect, the pH balance must be correct from the start. The pH count must lie between 7.0 and 7.4. Pool water that is out of balance can cause irritation to the eyes and skin, for example. See further details in the graph below.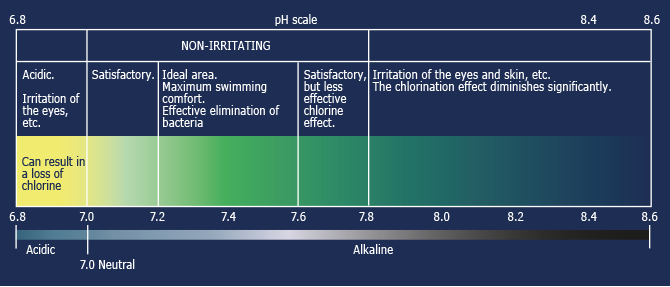 The first action in all water care (level 1) is therefore to measure the current pH count of the water and, if necessary, adjust it with Active Pool PH UP or Active Pool PH DOWN to the required neutral value. You can easily measure the water's pH count with Active Pool Test Set PH Chlorine.

When the water is hard, with a high pH count exceeding 7.4, Active Pool PH DOWN should be added. If the water has a low pH count below 7.0, Active Pool PH UP should be added.
Websitet anvender cookies til at huske dine indstillinger, statistik og at målrette annoncer. Når du besøger vores hjemmeside, accepterer du automatisk vores brug af Cookies.