Electric Spa Heaters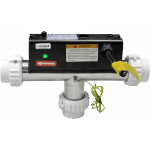 Activ Pool has spa heaters with effect from between 1.0000 and 6,000 watts.
A heater at 2,700 watt heats 200 liters of water up from 15 to 39 degrees in about two hours, and the largest heaters will do the job on roughly half the time. The water in the Spa should be kept to 38-40 degrees.

Suitable for standard double bath Effect: 2 Kw Power: 220-240V Amps: 10A IP45 Max. Pressure: 0.0..

For 3 person spa bath or standard double bath. Effect: 3 Kw Power: 220-240V Amps: 16A IP45 Max. ..
Websitet anvender cookies til at huske dine indstillinger, statistik og at målrette annoncer. Når du besøger vores hjemmeside, accepterer du automatisk vores brug af Cookies.